Stillness Breathes (Essential Mercury Rev)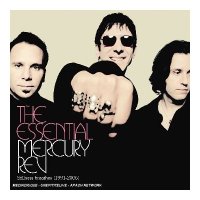 It is very odd to me that Mercury Rev doesn't enjoy as much success as some of their contemporaries especially at their home country of the United States. They are often compared to one of my favorite bands The Flaming Lips in sound, you can call it a mix of dream pop and psychedelic rock in a modern sense. The Flaming Lips had actually shared Jonathan Donahue who appeared as guitarist on two Flaming Lips albums,
In a Priest Driven Ambulance
and
Hit to Death in the Future Head
. More importantly the Flaming Lips' long time producer David Fridmann played bass for Mercury Rev and still has a hand on producing their albums.
Mercury Rev have a new best of compilation coming out on V2 compiling songs from 1991-2006 titled
Essential Mercury Rev: The Weird Years 1991-2006.
Its a great intro to a band that has a great collection of under appreciated songs. I'll have to admit that I'm only familiar with two Mercury Rev albums and this album really helps tie together some of the loose ends and missed tracks that would of been a crime if I hadn't heard. There were some tracks that I was surprise that was not on this "best of" like

Vermilion

from last years

Secret Migration

. I recommend this album for fans of the Flaming Lips, Polyphonic Spree and Sparklehorse.


Mercury Rev - Good Times Ahead
Mercury Rev - Opus 40
---