Eels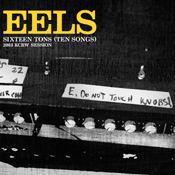 EELS -- Sixteen Tons
2003 KCRW Session
Recorded live at the EELS 2003 Tour Of Duty KCRW session.
Available exclusively at the EELS' 2005 concerts.
TRACK LISTING:
01 i'm a loser
02 packing blankets
03 saturday morning
04 lone wolf
05 numbered days
06 last stop: this town
07 rock hard times
08 sixteen tons
09 grace kelly blues
10 my beloved monster
I've been an Eels fan for a while so when I saw this I was fast to download it. I don't know who uploaded it but I've seen it around. Its a great limited release.
http://rapidshare.de/files/2563099/EEP.zip.html
pass : alienonacid
---